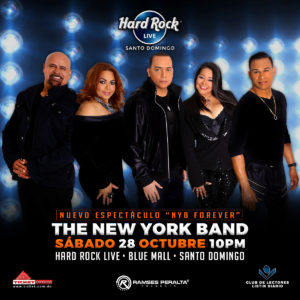 The New York Band estrenará su nuevo espectáculo "NYB Forever" en el prestigioso Hard Rock Live de Santo Domingo, el sábado 28 de octubre, a partir de las 10:00 de la noche, producido por el empresario Ramsés Peralta.
Luego de ser honrado por la Asociación de Cronistas de Arte (ACROARTE) en la más reciente edición de Premios Soberano con un galardón en la categoría "Espectáculo del Año", ahora The New York Band prepara una nueva y espectacular puesta en escena para el disfrute de todo su público.
"Este nuevo espectáculo lo estamos produciendo con mucho empeño y todo el corazón especialmente para nuestro querido público que nos ha dado tantas muestras de cariño y tanto apoyo en todas las presentaciones", dijo Cherito Jiménez.
La agrupación musical más moderna y emblemática de la historia, como la describe la prensa, tiene en agenda llevar su espectáculo a toda Latinoamérica y Europa en los próximos meses.
En estos momentos, los integrantes de The New York Band están en medio de una extensa gira por todo el territorio colombiano, representados por las empresas multinacionales Grupo Premium y Decimal Talent Agency. La próxima semana llegarán a Santo Domingo para su concierto en Hard Rock Live, ubicado en Blue Mall.
Las boletas para "NYB Forever" ya están a la venta en Ticket Express y Hard Rock Café a los precios de RD$2,000 VIP y RD$1,500 General.