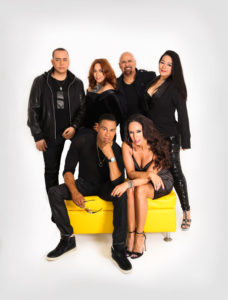 La orquesta The New York Band ya tiene fecha para sus esperados conciertos en la República Dominica. Los artistas Cherito, Iris, Franklyn, Alexandra, Tony y Miosotis se vuelven a reunir en la espectacular gira "Re:Encuentro World Tour", del 17 al 22 de agosto de este año.
Luego de la impactante presentación de The New York Band en la ceremonia de entrega de los Premios Soberano 2016, el público ha pedido insistentemente a través de las redes sociales que la agrupación musical se reúna para brindar un show completo que incluya todos sus éxitos.
"Innumerables peticiones nos han motivado para hacer esta entrega especial una vez más. Queremos que todos nuestros fanáticos vuelvan a disfrutar esta historia de éxito. Con este fin, realizaremos una gira de conciertos en los grandes escenarios del mundo latino, iniciando en la República Dominicana a mediado de agosto", expresó Cherito.
Los lugares donde se llevarán a cabo los eventos serán anunciados próximamente, a través de los medios de comunicación por su representante Ramsés Peralta, quien está a cargo de coordinar la gira de The New York Band.
Cherito, Iris, Franklyn, Alexandra, Tony y Miosotis ya están en la fase de ensayos, juntos con su orquesta compuesta por 15 excelentes músicos y un cuerpo impresionante de bailarines.
Puede seguir a The New York Band a través de sus redes sociales: @TheNewYorkBand