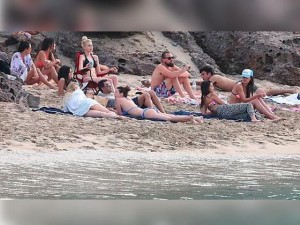 A diferencia de otras celebridades que recibieron el Año Nuevo en lujosas fiestas, Leonardo DiCaprio optó por escapar a una playa privada con media docena de mujeres.
Según el sitio TMZ, el actor trasladó a sus amigas y a algunos caballeros a una playa privada.
A pesar de su "exilio", los paparazzi lograron captar al protagonista de la cinta "The Wolf of the Wall Street", con su traje de baño y una larga y poblada barba.