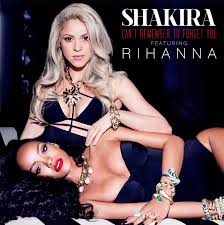 Shakira logra, en 24 horas, el número 1 de la lista iTunes en 39 países con "Can't Remember To Forget You", informó la artista en su perfil de Facebook. (Escuchar canción). La canción en la que colabora Rihanna y que sirve como carta de presentación de su nuevo disco, es todo un éxito en Colombia, Barbados, Nigeria, España, Rusia, México y Líbano, entre otros países.
"Can't Remember To Forget You", estrenado en todas las plataformas digitales, es un tema de Shakira y Rihanna en el que también colaboran John Hill, Tom Hull, Daniel Ledinsky y Erik Hassle; además de los productores John Hill y Kid Harpoon.
Es el primer sencillo de la nueva producción musical que Shakira lanzará el próximo 25 de marzo, y en el que han trabajado John Hill (Santigold, Jay Z, The Vaccines), Kid Harpoon (Florence + The Machine, Calvin Harris), Greg Kurstin (P!nk, Kelly Clarkson, Katy Perry), Steve Mac (Kelly Clarkson, One Direction), Mark Bright (Carrie Underwood, Rascal Flatts), Busbee (P!nk, Lady Antebellum, Katy Perry) y The Messengers (Pitbull, Chris Brown, Christina Aguilera). Shakira, quien se alista para volver al programa "The Voice", confesó hace unos meses que el nuevo álbum estará dedicado a Piqué.