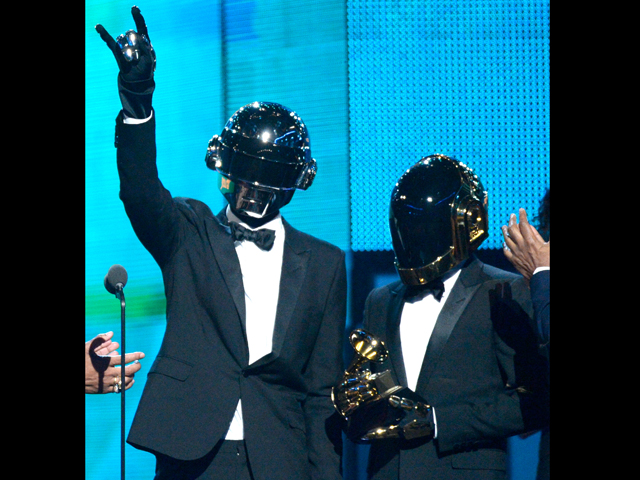 Por todo lo alto y con un gran espectáculo se realizó la 56 edición de los Grammy, premios de la música, en Los Ángeles.
La Academia de la Grabación de EEUU, entidad detrás de estos galardones, concedió gramófonos dorados en 86 categorías.
La gala de los Grammy tuvo lugar en el pabellón deportivo Staples Center, hogar de Los Ángeles Lakers, y volvió a contar con el rapero LL Cool J como maestro de ceremonias.
Como es habitual, entre galardón y galardón, los Grammy estuvieron salpicados de actuaciones.
Mira la lista completa de los ganadores.
Mejor Artista Nuevo: Macklemore y Ryan Lewis
Mejor Grupo/ Dúo Pop Performance: Daft Punk con Get Lucky
Mejor Álbum Pop: Bruno Mars por Unorthodox Jukebox
Mejor Álbum Country: Kacey Musgraves por Same Trailer Different Park
Mejor Canción Rock: Dave Grohl, Paul McCartney, Krist Novoselic y Pat Smear por Cut Me Some Slack
Mejor Álbum Pop Instrumental– Herb Alpert pot Steppin Out
Mejor Álbum Tradicional Pop- Michael Buble por To Be Loved
Mejor Álbum Reggae – Marley por Ziggy Marley en Concierto
Mejor Álbum Música del Mundo- Gipsy Kings por Sabor Flamenco y Ladysmith Black Mamb por Live: Singing For Peace Around The World"
Mejor Spoken World Álbum- Stephen Colbert por America Again: Re-becoming The Greatness We Never Weren"t"
Mejor Empaque o Empaque Edición Limitada– Simon Earith & James Musgrave, directores artísticos (Paul McCartney And Wings)
Mejor Empaque de Grabación- Sarah and Shauna"s Dodds
Mejor Grabación Remix- Summertime Sadness (Cedric Gervais Remix) Cedric Gervais, remixer (Lana Del Rey)
Mejor Ingeniería de Audio– Daft Punk por Random Access Memories
Mejor Álbum Gospel Contemporáneo Cristiano /– Tasha Cobbs por Break Every Chain (Live)
Mejor Canción Gospel- Tye Tribbett po If He Did It Before… Same God (Live)
Mejor Álbum Gospel- Tye Tribbett por Greater Than (Live)
Mejor Álbum Latino Pop- Draco Rosa por Vida
Mejor Álbum Latino Rock- La Santa Cecilia por Treinta Días
Mejor Álbum con Ingeniería Clásica: David Frost Brian Losch Tim Martyn, M Schneider"s Winter Morn.
Mejor Performance de Música de Cámara o Ensamble Pequeño- Brad Wells por Roomful Of Teeth
Mejor Álbum New Age- Laura Sullivan por Love"s River
Mejor Álbum Vocal de Jazz- Gregory Porter por Liquid Spirit
Mejor Álbum de Jazz Instrumental Terry Line Carrington por Money Jungle: Provocative In Blue